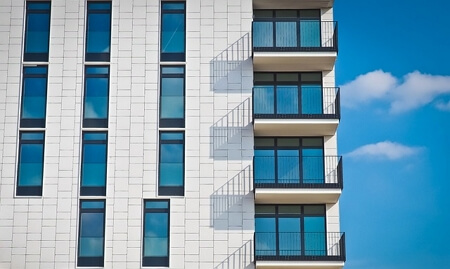 As a family-owned business with over 15 years of experience, we specialize in concrete restoration, structural waterproofing, and floor coatings. Our short lead times allow for a fast and hassle-free execution, even for larger projects. We offer free consultation and quote services to tailor individual solutions to your wishes and needs.
When is balcony coating necessary?
Balcony coating becomes necessary when surface damage, such as cracks or other impairments due to weathering, occur. It's also required when balcony sealing is no longer adequate, allowing moisture to penetrate the building structure. Timely balcony restoration can safeguard the building structure and prevent more significant damages.
What types of balcony coatings are available, and which materials are used?
Various types of balcony coatings are available, depending on your specific needs. Liquid plastic coatings provide durable waterproofing and excellent resistance to moisture and UV rays. Epoxy coatings offer an exceptionally robust surface and high durability. Polyurethane coatings are also used and offer great elasticity.
The choice of material depends on various factors, such as the type of substrate and balcony usage. We would be happy to provide you with more detailed advice in a personal consultation and assess the on-site situation to implement the right measures.
How is balcony coating carried out, and how long does it last?
Balcony coating is performed by our experienced professionals who possess the necessary expertise and technical tools. Initially, the balcony is thoroughly cleaned, and the substrate is prepared, including the removal of old coatings and primers. Subsequently, the coating is applied and sealed, depending on the material. A professionally executed balcony coating can last up to 15 years, depending on the material and usage.
How much does balcony coating cost?
The cost of balcony coating depends on various factors, including the size of the area and the chosen material. We are pleased to provide you with a customized quote tailored to your needs, emphasizing an optimal price-performance ratio.
Balcony Coating: A Job for Professionals
Balcony coating requires specialized knowledge and experience in working with coating materials. Therefore, we recommend having a professional handle your balcony coating. Our experienced experts guarantee a professional and long-lasting execution.
Whether you can perform your balcony coating or require a professional depends on various factors, such as your DIY skills, the materials you wish to use, and the type of balcony coating you want to apply. Nevertheless, you should note that balcony coatings often demand specific knowledge and proper surface preparation for the coating to adhere correctly. If you are uncertain or lack the necessary skills, it's advisable to seek the services of a professional.
A professional can assist you with various aspects, including:
Selecting the right coating material

Conducting proper surface preparation
Applying the coating professionally
Furthermore, we place great importance on taking the necessary safety precautions to ensure that the project is conducted safely and successfully at all times. We would be delighted to discuss the details of your new balcony coating with you!
Ihr Partner bei der Beratung, Planung und Ausführung Ihrer Balkonbeschichtung.