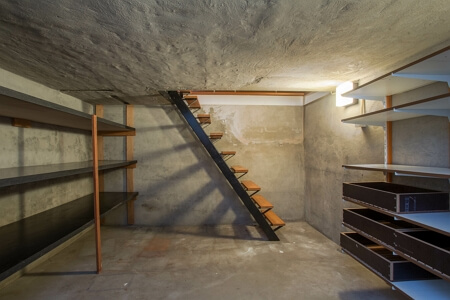 A basement provides additional living or storage space, but it can also be a gateway for moisture from the outside and mold. Proper basement waterproofing is therefore of great importance to protect the building structure and the health of its occupants. Learn more about the different types of basement waterproofing and the advantages and disadvantages they entail.
As an experienced specialist in structural waterproofing, basement renovation, general renovation, and interior insulation, we protect your home from both the inside and the outside. For comprehensive guidance, feel free to reach out to the EpoCon GmbH team.
Types of Basement Waterproofing and Materials
There are various types of basement waterproofing, each of which can be more or less effective depending on the needs and characteristics of the house. Below, we explain some of the most common methods:
Horizontal Waterproofing: With this type of exterior waterproofing, a water-impermeable layer is applied to the outside of the basement to prevent water from infiltrating the walls and masonry. This process involves excavation of the surrounding soil.
Vertical Waterproofing: This type of basement waterproofing pertains to sealing the vertical surfaces such as the basement walls and the floor slab. Waterproofing can be achieved by applying a water-impermeable coating to these surfaces. Vertical waterproofing is useful for preventing water penetration through the masonry, cracks, and joints in the walls.
Interior Waterproofing: This method is used to control existing moisture in the basement and prevent future moisture-related issues. However, interior waterproofing is only a temporary solution and does not entirely resolve the problem of water infiltrating through the foundation or the base.
Various materials are used depending on the type of basement wall waterproofing. The most common materials include bitumen, polymer-modified bitumen (PMB), plastic sheets, cast asphalt, epoxy resin coatings, and injection resins.
What Are the Costs?
The costs of basement waterproofing in Germany depend on various factors, such as the size and type of the basement, the degree of moisture, and the chosen waterproofing method. Prices can vary significantly as a result. Horizontal waterproofing typically ranges from 50 to 150 euros per square meter, while the costs for vertical or interior waterproofing range from 70 to 200 euros per square meter.
Durability
The durability of basement waterproofing also depends on various factors, including the type of waterproofing, the materials used, the causes and weather conditions, and the level of moisture. When professionally executed, basement waterproofing can last up to 20 years or more, depending on the type and materials used.
Advantages of Professionally Conducted Basement Waterproofing
If you intend to have a basement renovation in Darmstadt, Frankfurt, or Mainz, a professional specialist firm can often save you a lot of trouble. When done correctly, you can benefit from the following advantages:
Prevention of damage from moisture, mold, and thermal bridges

Enhancement of energy efficiency and reduction of heating costs

Improvement of living comfort through a more pleasant indoor climate

Increase in the value of the building by improving the condition of the basement
Extended lifespan and security of the building, protecting it from external moisture damage
Basement waterproofing generally requires complex building techniques that rely on expertise and experience. It is, therefore, recommended to entrust basement renovation to a professional company.
EpoCon GmbH: The Qualified Specialist Firm in Your Area
If you're seeking an experienced and quality-conscious specialist firm for concrete restoration, structural waterproofing, and floor coatings, you've come to the right place with us!
As a family-owned business with over 15 years of experience, we offer our customers not only comprehensive expertise and professional execution but also short lead times, as well as free consultation and quotation services. Contact us today and let's find a solution for your construction project together!
Ihr Partner bei der Beratung, Planung und Ausführung Ihrer Kellerabdichtung.