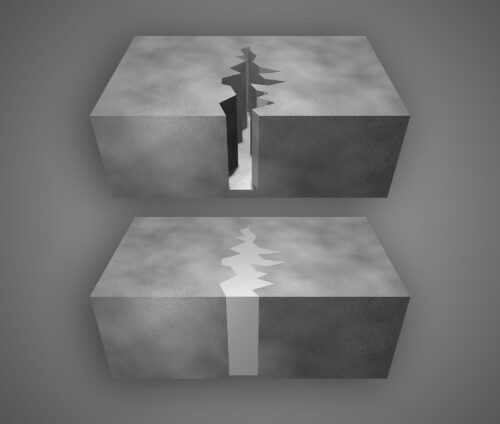 Concrete is one of the most commonly used building materials in today's world. Thanks to its long-lasting durability and tremendous strength, concrete offers versatile applications. Additional materials like glass and metal fibers or steel can be used as reinforcements to enhance its performance.
However, despite its durability, concrete is subjected to aging due to weather conditions and various environmental influences, often requiring renovation and maintenance. At EpoCon GmbH, we have been conducting concrete restorations in Frankfurt and throughout the country for many years. With our expertise in damage analysis, we can precisely determine the necessary measures.
What types of concrete restorations are there?
The most common damages in concrete structures occur in the reinforcement area. These steel bars are typically located inside the concrete and are completely covered by it. When damage occurs on the surface, the steel bars can be exposed, leading to corrosion of the reinforcement. The main measures in the field of concrete restoration include:
Concrete Crack Restoration: Repairing the crack to restore structural stability and impermeability. Often carried out using liquid resins that are injected into the concrete.

Reinforcement Coatings: Removing the concrete protective layer over the reinforcement while maintaining structural stability. Subsequently, rust is removed, and the occurrence of further corrosion is prevented with special protective coatings. As a third and final step, the areas are refilled to restore their original appearance and technical condition.

Joint Repair: Restoring joints with new sealants or, depending on the size of the joints, overlaying with elastomeric tapes. Depending on the project, it may also be beneficial to widen and redesign the joint.
Duration and Effort of Concrete Restoration
Damage to a concrete structure should always be addressed promptly by professional craftsmen. It should be kept in mind that the structural integrity may be affected if concrete restoration is not carried out, or if it's not done in a timely manner. The costs of restoration can vary depending on the condition and scope of the work, and cannot be estimated without an inspection and planning of the restoration. With EpoCon GmbH, you can be assured that your concrete restoration will be cost-effective and efficient, while preserving long-lasting value.
Your Partner for All Types of Concrete Restoration
No matter what project you bring to us, a dedicated contact person will take care of your needs and ensure the perfect execution of your concrete restoration in Frankfurt and across the country. We prioritize professional planning and implementation while considering other aspects of concrete structures such as proper insulation and coating. Especially in older buildings, factors like the transition to wooden structures or adjacent gardens with high humidity levels must be taken into account. Our years of expertise in this field and our references in concrete restoration demonstrate that professional concrete restoration by EpoCon GmbH is both efficient and cost-effective.
Ihr Partner bei der Beratung, Planung und Ausführung Ihrer Beschichtung und Betonsanierung.