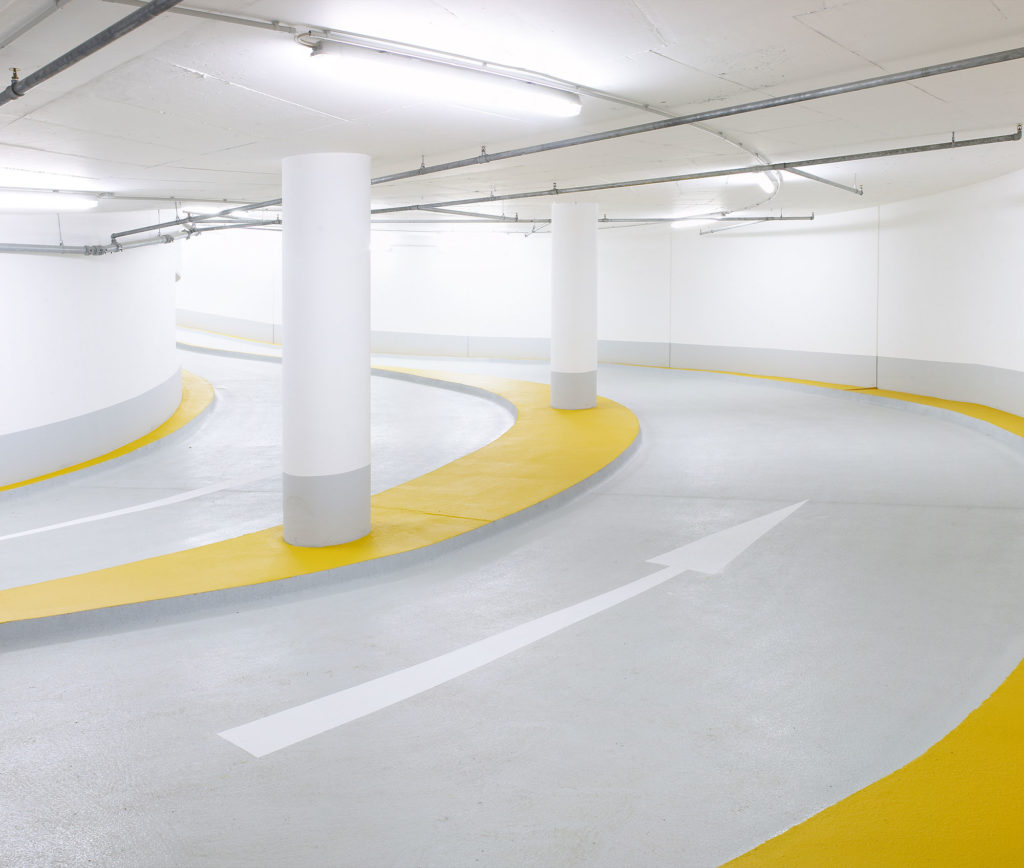 At EpoCon GmbH, we prioritize quality when it comes to the right floor coating for your parking garage. The daily traffic of vehicles, penetration of substances, and extreme wear and tear put constant stress on the surfaces of parking structures. We are at your service as a specialized company with over 15 years of experience for your underground garages located across the country.
What types of floor coatings are there?
Although screed and reinforced concrete have long been considered standard flooring for garages, parking garages, and underground garages, caution is advised. Unsealed, these floors allow moisture to penetrate, are prone to stains, and eventually lead to cracks and wear in underground garages.
Since parking structures are exposed to continuous stress, they require special sealants. That's why modern coatings increasingly focus on surface protection with epoxy resin and polyurethane resin. This type of floor protection is versatile in its applications and is known for:
Easy application
Resilience and durability
Easy cleaning due to dirt repellency
Sealing protective layer
Additionally, epoxy resin and other resins promise an attractive, customizable appearance. Depending on your needs, user-friendly markings can be integrated, harmoniously matched in color.
What safety standards must be considered when selecting floor coatings?
Parking areas are exposed to various thermal, chemical, and mechanical stresses depending on their location and construction, which can vary from one parking structure to another. Parking decks are particularly exposed, while ramps must withstand increased friction. To avoid creating safety hazards due to these influences, the right surface protection must fulfill the following specific functions and properties:
Slip resistance
Sound insulation
Waterproofing and frost resistance
Abrasion resistance
To ensure that your underground parking garage complies with all relevant norms and regulations, we provide complimentary guidance and support at EpoCon GmbH.
Floor Coatings for Parking Structures: Installation and Maintenance
Modern floor coatings offer further advantages when it comes to easy installation and maintenance of surface protection. The coating is easy to apply, saving both time and costs. Initial use of the floors can commence as soon as 24 hours after application. However, for vehicle use, it is advisable to allow for a curing time of approximately seven days.
Additionally, epoxy resin, due to its dirt-repellent, dust-free, and seamless properties, is easy to maintain and can last for several years. The coating is resistant to water, oils, fuels, and road salts. In cases of light soiling, dry cleaning is usually sufficient.
Choosing the Right Provider
A high-quality floor coating enhances the usability of parking structures and prevents costly renovations. Given the varying stresses on these surfaces, it is crucial that the surface protection is tailored to your specific requirements and that the necessary expertise and technical equipment are available.
At EpoCon GmbH, we have specialized in system solutions for concrete repair, structural sealing, and floor coatings for parking structures and industrial spaces for over 15 years. As a family-owned business, we place a strong emphasis on quality and customer orientation. This is why we guarantee short lead times and offer complimentary consultation and cost estimates, even for larger projects.
Contact us now and schedule a consultation to learn more about our products.